Your Invitation to actively do something about racism is here.

I'm going to be straight with you right now. I think I'm always someone who tries to tell it like it is, I got it honestly from my mom. Today though, I have to say, that the current condition of the United States, which greatly influences our world condition, does not allow me to hold my tongue.
Black, Indigenous, People of Color are experiencing the effects of racism daily. Between micro-aggressions, the trauma of domestic terrorism like the mass shootings in Buffalo, the violation and stealing of land belonging to Indigenous people, videos showing police shootings, anti-Asian violence, the horrible after-effects of Native American children's bodies being found, the legal oppression of the teaching of accurate history, dealing with a racist system designed to deter us in every institution and on and on and on, the violations are non-stop.
One thing I know for sure is that we must act if we are ever going to live in a country and a world where racism and white supremacy do not reign. For many white people, the approach to doing something about racism has been rooted in the teachings of their family and spiritual leaders that essentially amount to "do unto others as you would have them do unto you." There have been those who have participated in marches, Black Lives Matter protests and book clubs and while helpful, it is not enough.
For BIPOC, historically we have done so much to try to draw attention, to be heard, to combat this and to just live our lives but this too, while impactful, it has not been enough to get the attention and action of enough "good white people" who say that they want to see change. The honest truth is that if dismantling racism could be done without masses of white people being a part of the effort, it would have been demolished by now because BIPOC have been working hard and pushing back strong to fight it for decades!
This has to be a collective effort and white people need to understand their role in this effort. That is why my On The Matter of Race program is inviting both BIPOC and white people to our first ever On The Matter of Race Live Virtual Summit.
It is for you if you can honestly say as a white person:
You wanted to do something about racism when George Floyd was murdered, but you honestly have done very little or not enough.
You were taught the way not to be racist is to treat people the way you want to be treated.
You have never heard a group of other white people talking about systemic racism, privilege and power and their effects on BIPOC.
And for so many other reasons as well, but if you see yourself here, this is about you.
It is for Black, Indigenous People of Color who:
Just need to be validated in your feelings about and experiences with racism.
Need to gather with others to hear how other BIPOC are engaging in the fight against racism in their own fields/lives.
Want to hear from white people who are learning about racism and its effects on BIPOC and are using their privilege and power in the right way.
And so many more reasons as well.
It is three powerful days of speakers who are coming together because it is time, it is overdue, and we must create change.
It is an opportunity to hear from BIPOC who are in the work and raising their voices. And you know I will have something to say along with my youngest son, Justin Hurdle-Price.
If you really want to do something or do more, then here is your invitation to our FREE On The Matter of Race Live Virtual Summit.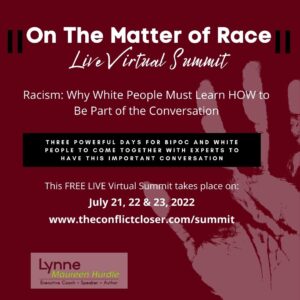 Don't Just Say You Want to Do Something to End Racism. Take the important step of attending this powerful event.
For white people this is the opportunity you've been seeking to learn more by challenging your beliefs. This is the time to join others and learn how to be a real factor in the conversation.
The On The Matter of Race Live Virtual Summit is here to help you learn to do that in ways that support, but do not center White-ness.
For BIPOC, this is your opportunity to be a part of this pivotal conversation and learn what is already being done by BIPOC and white people and in the fight against racism.
It's time! I want to see you there.
In Love,
Lynne